Special Events
Fundraising through special events is a great way to support the healthcare needs of our region.
The Western Regional Hospital Foundation is fortunate to have so many generous and inspiring people contributing through special events. Whether it's through a BBQ, wine tasting, golf tournament, curling funspiel, gala, or auction. Each event helps improve the level of medical care we receive in our region.
New events are always welcome and we will provide support to all our volunteer groups in any way we can. We invite everyone to participate in our existing events or to hold one of their own, and contribute to improving the quality of healthcare available to every resident on the west coast of Newfoundland.
Bidding for Better Health - Online Auction
February 24 - February 28, 2022
The "Bidding for Better Health" online auction will be live from February 24 until February 28, 2022 at Events.Handbid.com or by downloading the Handbid App to your handheld device. We have over 100 fabulous auction items for you to bid on in an effort to meet our healthcare goals!
Foundation Chili Cook-Off Lunch
Date & Details To Be Confirmed
Come to the Civic Centre Studio Lobby for a Chili Fiesta!  Tempt your taste buds with a variety of different types of chili prepared for your judging by local chefs. You can visit each booth, sample the chili and vote for your favourite. This event will be lots of fun and will include live music. Sponsored by the City of Corner Brook.  Sampling will begin at 12 PM until 1:00 PM and the entrance fee is $6 with a Carnival Button and $7 without.
Charity Curling Funspiel
Date & Details To Be Confirmed
The Curling Funspiel, presented by Shoppers Drug Mart and sponsored by Maximum Home Support and Humber Valley Resort, is an enjoyable event consisting of teams of four (with at least two non-curlers per team).  Come out and enjoy a weekend of fun, a taste of the curling experience, a chance to meet new people and to help support a great local cause. This event includes at least three games of curling per team (6 ends per game), raffles, and great team prizes. Team registration is only $100.00 per team. The first match will begin at 6 PM on Friday evening and the event will wrap-up with a prize presentation late Saturday afternoon.
Sip & Savour
Date & Details To Be Confirmed
The Western Regional Hospital Foundation and Humber Valley Resort present Sip & Savour; a Spring Social event sponsored by Veitch Wellness! We are thrilled to present gourmet small plates by Nathan Hornidge and fabulous wine pairings at each of six stations.There will be live musical entertainment and a small silent auction. Bar service will also be available. All proceeds are in aid of the Western Regional Hospital Foundation and a tax receipt for a portion of each ticket will be given. Tickets are $100 and can be purchased by calling 784-5353.
Ride & Seek ATV Scavenger Hunt
The Ride and Seek ATV Scavenger Hunt is a new event in partnership with Western Sno-Riders and will take place during the City of Corner Brook's Jiggs and Wheels festival in July. We are very excited to launch this new event and you can follow us on Facebook to find out all the details! The event will kick off between 9 and 11 AM on Sunday, July 17 at Rugged Edge and will continue with a day of fun and adventure and a parade to the finish at Appalachian RV & Chalets for a reception and prize presentation.
John Piercey Memorial Funvitational Golf Tournament
September 14, 2022
For 20 years John Piercey, an employee at Western Health dedicated much of his time organizing this fabulous event and it is because of him the tournament is the success it is today. The tournament has been re-named the John Piercey Memorial Funvitational to honour such an extraordinary man and everything he has done over the years to support the Foundation. Teams of four will enjoy 18 holes of golf on a day filled with fun and excitement at the Humber Valley Resort River Course. Excellent prizes, along with a Prime Rib Dinner Reception is included. 2022 marks the 30th anniversary of this event which is held each September.
Radiothon
September 29, 2022
The VOCM Radiothon is the Western Regional Hospital Foundation's largest special event. Because the Hospital Foundation is the only regional foundation on the West Coast of Newfoundland we ask for the support of each and every resident during our Annual CFCB Radiothon. This fun-filled one day event is always graced with the participation and support of many volunteers, doctors, businesses, service groups, schools and individuals. This event takes place in late September or early October, usually on the Friday of the weekend prior to the Thanksgiving Day weekend. Due to COVID-19 precautions and for your safety, the event format will be determined at a later date. Last year, donations were accepted on Radiothon day by call-ins only at 634-2322 or at 784-5353 in advance. Send us a selfie of you and your donation or a sign saying why you donate and we will share it on Social Media leading up to the event!
Gala
November 26, 2022
This elegant themed evening features a premium silent auction, a champagne reception, a gourmet meal and dancing to the music of a live band. The theme of the event and the format (if it is able to go ahead this year) will be announced in accordance with Public Health guidelines at the time of the event. The Gala is a great way to get in the festive spirit leading up to the holidays!
Here is a wide angle view of the room at a past Gala...Moulin Rouge.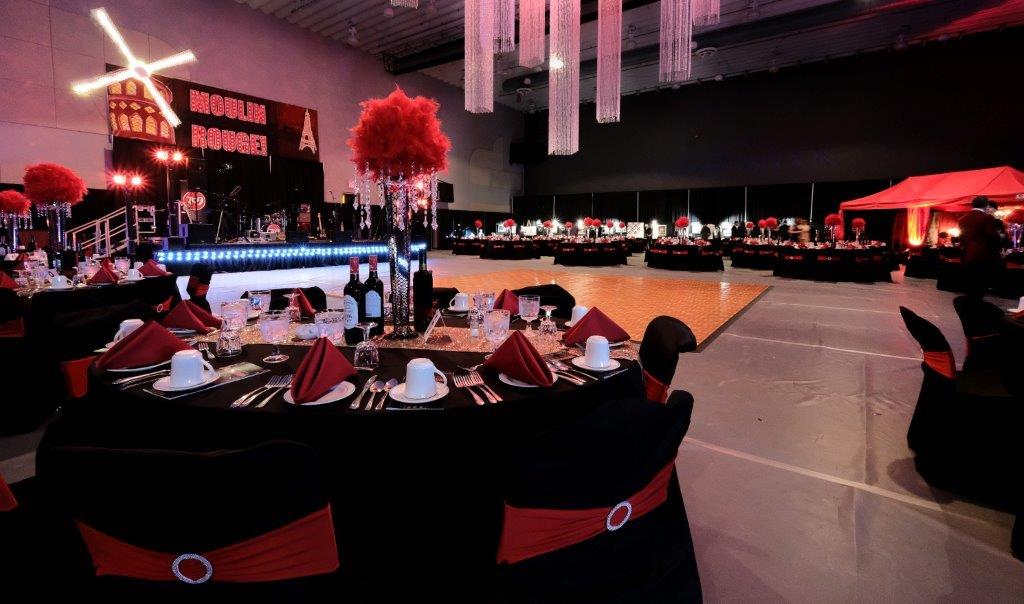 Tree of Memories
December 2022
A wonderful tribute to loved ones who have passed. A bulb is placed on a tree signifying the person who is being honored and the person who donates in their memory. A beautiful tree lighting ceremony takes place followed by a short service. This event takes place in December and the date varies by each community that takes part.
Corner Brook
Deer Lake
Pasadena
Hampden
Jackson's Arm
Trout River
Ramea
Casual Friday
Throughout the year
This is a fun way to donate. Every Friday with a donation of a loonie or toonie you can wear casual attire. If you keep track of the donations, an income tax receipt can be given at the end of the year.
Special Occasion Cards
If you are having trouble finding a gift for that special someone who is celebrating a birthday or anniversary, a wonderful gift is a donation made in honour of their special day. A beautiful card will be sent to the celebrant acknowledging your donation made on their behalf and you will receive an income tax receipt in the amount of the donation. The celebrant can also take comfort in knowing their gift will help benefit many people in the Western Region.
Other Events
Volunteers throughout the Region participate in many ways, by hosting special events and donating the proceeds to the Western Regional Hospital Foundation.  If you would like to discuss hosting an event of your own, please contact us for more information at (709) 784-5353.