Humberwood Treatment Centre
Humberwood Centre offers a program of recovery and personal growth to residents of Newfoundland and Labrador. Located in the beautiful city of Corner Brook on the province's west coast of the island, the Centre offers a small, intimate setting where clients receive attention and a flexible, individualized program to meet their needs. The Centre opened in 1990 and has many years of experience treating people with addictions to alcohol, drugs and/or gambling.
Highlights:
Modern Facility
Residential care
Withdrawal management beds
Private rooms
Treating alcohol, drug and gambling addictions
Wellness approach to treatment
For individuals and families
Client confidentiality
24-hour support
No fee for Newfoundland and Labrador health card holders (MCP)
About Humberwood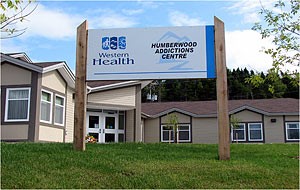 Humberwood Centre offers services free of charge to individuals age 19 and older who are experiencing substance abuse or gambling problems.
It is a voluntary program open to individuals who are in the middle to late stages of addiction and require a more intensive, structured program than can be provided on an outpatient basis.
Ten private bedrooms/bathrooms provide personal space. The Centre also has a lounge, kitchen, dining room, relaxation room, whirlpool tubs, a fitness room, and a private outdoor recreational/relaxation area.
The treatment program is three to four weeks and provides individuals with a supportive residence while attending the program and working towards their treatment goals. Some individuals require a longer period of residential treatment. The option of extended stay is presented to individuals if the treatment team believes that it would benefit them and increase their potential for recovery success upon discharge.
Philosophy
Mission
The mission of Humberwood Centre is to provide quality addiction treatment services to the people of Newfoundland and Labrador.
Vision
The vision of Humberwood Centre is that people suffering from addiction will learn to lead healthy, addiction-free lives and achieve physical, emotional and spiritual well-being.
Values
We value the physical, mental, emotional, social and spiritual well-being of the individual.
We value and respect, the dignity and worth of every person.
We value an individual's right to self-determination.
We value ethical decision-making.
We value practices which are grounded in research and experience.
Goals
The overall goals of the Humberwood Centre are to help individuals reduce their risk of relapse and achieve healthy, balanced lifestyles. To help clients achieve these goals the program operates from a philosophy that views the treatment of addiction from a holistic perspective. This approach addresses the individual's physical, social, psychological and spiritual health.
Referral / Admission
Admission to Humberwood Centre is voluntary. Individuals must be referred by a community professional such as an addictions counselor, physician, nurse, social worker, or psychologist.
Individuals must undergo an assessment of their addiction which explores level of functioning in life areas, extent of their addiction and treatment goals.
A medical assessment is also required. This process will determine suitability for inpatient treatment.
Individuals accepted for admission will be given an admission date. Wait times vary.
With the exception of those entering a withdrawal management bed, all individuals are asked to abstain from alcohol/drugs for five days prior to their admission date.
While attending the program all clients are expected to be alcohol/drug/gambling free, with the exception of approved prescription medications.
Humberwood Centre does not permit the use of mood-altering substances such as narcotics, tranquilizers or sleeping medications.
Screening and Assessment
Referral to Humberwood Centre requires the completion of a biopsychosocial assessment. In addition to this assessment, clients may receive further screening and/or assessment during their stay. This includes:
Medical Assessment. All clients receive a medical assessment at the beginning of the program. This will determine if they are medically fit to participate in the treatment program and highlight any medical concerns for follow up.
Screening for concurrent mental health issues.
Screening and/or assessment of suicide risk, aggressive behaviour, and risks associated with IV drug use, and financial issues.
Psychological assessment related to cognitive or neurological functioning or personality.
Treatment Program
At the Humberwood Centre you will engage in group-based programming. The components of the Treatment Program Include:
Group Therapy – Daily group therapy sessions will enable you to gain a deeper understanding of yourself and gain insight into your addiction. The goals of group therapy are to decrease feelings of isolation, to give and receive support and to explore new ways of problem solving.
Individual Counselling – Individual counselling sessions are provided as needed throughout the program. Psychological assessments are performed when deemed necessary.
Nutrition – You will learn about the impact of your addiction on your nutritional status, how to correct any nutritional deficiencies and the importance of making healthy food choices.
Stress Management – You will learn how to build effective stress management into your life and how to cope with stress without activating your addiction.
Relaxation/Mindfulness - You will be taught various relaxation techniques to assist you with anxiety and stress management and will be introduced to the benefits of mindfulness.
Active Living – These sessions occur throughout the program as part of Humberwood's holistic approach to recovery. This might include a walk, using fitness equipment and audio/video tapes. Clients are encouraged to build regular exercise into their leisure time. There will be weekly yoga sessions facilitated by a certified yoga instructor when it is permitted by public health to do so.
Leisure Planning – This program component is designed to teach you the importance of planning leisure time in recovery. It will assist you in discovering your leisure interests and help motivate you for change.
Journaling – You will be encouraged to write about your thoughts, feelings and experiences daily to increase self-awareness.
Spirituality – This session is non-denominational and focus on personal spiritual needs.
Relapse Prevention – Strategies for preventing a return to alcohol, drugs or gambling are introduced.
Self-Help – Attendance at in house Alcohol Anonymous (AA) meetings are required once a week throughout the program. Clients are strongly encouraged to participate in NA or other self-help groups as well within the community. Transportation may be arranged.
Education – You will attend a variety of sessions which provide information on issues related to substance abuse and gambling.
Denial – You will be challenged to reflect on your use of defenses which may be contributing to your addiction.
Anxiety and Depression – You are taught skills for managing these two common emotions in recovery.
Creative Expressions – Through the use of art or related creative activities you will be encouraged to explore recovery issues.
Self-Esteem – Throughout the program you will learn about the relationship between self-esteem and addictions issues and begin the process of enhancing your self-worth and building a positive attitude.
Anger Management -Clients learn how to manage their anger in healthy ways to improve their relationships and minimize the risk of relapse
Cognitive Behavioural Therapy - You will learn how restructuring your thoughts can have a positive influence on your behaviour.
Dialectical Behavioral Therapy - You will learn skills such mindfulness, distress, tolerance, emotional regulation, interpersonal effectiveness as it related to addiction and recovery.
Boundaries – You will gain an increased awareness of how to establish healthy boundaries between yourself and other people.
Addiction and the Family – Through group and individual counselling, in addition to education sessions, you will gain insight and awareness into the effect your addiction has had on your family.
Communication Skills – You will learn new and different ways of developing healthy communication with others as a means of improving your relationships.
Addiction and the Brain – You will learn the role neuroscience plays in addiction and recovery.
Trauma – You will gain an awareness of the relationship between trauma and addiction and the impact of trauma on your recovery. Information on how to cope with the symptoms of trauma, in healthy ways, will be provided.
Peer Support – You will have the opportunity to listen and share with a person in recovery and be able to ask questions and get support.
Gambling Treatment Program
Gambling activities can include bingo, lotteries, break-open tickets, video lottery terminals (VLTs), sports betting, stock market speculation and online betting.
Clients attending Humberwood Centre for a problem with gambling will receive information designed to help them understand their gambling behaviour, develop strategies to cope with the impulse to gamble, and make the necessary lifestyle changes to support recovery from problem gambling.
There are specialized sessions specific to gambling which focus on:
Challenging irrational thinking patterns and beliefs which sustain gambling behaviour,
Exploring unresolved grief and loss which may be related to gambling behaviour,
Learning how to begin financial recovery, make restitution and develop strategies for handling money as part of recovery from gambling addiction.
Withdrawal Management Services
Residential Withdrawal Management provides a supportive setting where men and women may safely withdraw from drugs, alcohol, and/or gambling.
Humberwood Centre provides a four-bed, non-medical Withdrawal Management Program for those clients who require supervision and monitoring during the initial phase of their treatment and have a Humberwood admission date.
The average length of stay is typically five days, but this may vary according to needs and circumstances.
During the withdrawal process, our clinical staff provides support, reassurance, screening, assessment and motivational counselling.
Individuals in the Withdrawal Management Program are not permitted passes outside the facility while they are under observation.
Opioid Treatment
In keeping with Best Practice research and recommendations, Humberwood Centre recognizes the potential benefits of methadone/suboxone for some individuals with an opiate addiction and the importance of addictions treatment/counseling as part of a comprehensive methadone maintenance program.
Individuals on an opioid treatment maintenance program are eligible for admission to the Humberwood Treatment Program providing they meet all other eligibility criteria.
Humberwood Centre can issue prescriptions for methadone/suboxone if deemed appropriate. However, we do not store methadone/suboxone on site, or dispense it. A visiting pharmacy does this on our behalf
Families
Family Education Day
Every three weeks Humberwood Centre has a Family Day. This day is for family members and significant others. It is open to:
Spouses/partners
Parents/Grandparents
Children (over the age of 16)
Adult children
Friends/support people
It offers families an opportunity to share experiences with others, learn more about addiction and recovery issues and receive support. This can be offered virtually, so families are not required to travel. If family members cannot attend, they can be sent educational materials. This day may be facilitated by Humberwood or The Grace Centre Staff.
Through lecture, videos and discussion, Family Day provides an opportunity to share experiences with others, learn about addiction and recovery issues, and receive support.
Families are helped to understand and cope with their circumstances.
There is emphasis on education, coping skills and self-care.
If family members cannot attend, an information package with educational materials can be sent to them.
Discharge Planning / Follow-Up
Discharge Planning
Upon completion of the Humberwood program all clients participate in discharge planning. This process involves:
Development of a comprehensive recovery plan
Referrals to community resources in each client's home community prior to discharge
Discharge reports sent to referral agent or professional who will be providing follow up services, with client consent. If the situation warrants, discharge reports can be tailored for employers or professional licensing bodies
Follow-up
The importance of follow up is stressed throughout the program. It is well established that the chance of recovery success is significantly improved if the person has a formal support system in place following discharge from treatment and uses that support. Follow Up community supports may include:
Ongoing individual or group counselling
Self-help groups
Specialized services
Staffing
Humberwood Centre is staffed by caring, compassionate professionals who are well trained in the area of addictions. Many have years of experience in the addictions field and/or a combination of personal and professional experience which enables them to provide a high quality of service to clients.
In a formal evaluation of the Humberwood Centre, staff were named as one of the program's "greatest strengths". All staff...
are registered with their professional bodies and adhere to Codes of Ethics governing their conduct.
Believe that clients have a right to considerate and respectful care.
Are non-judgmental and respect the dignity and worth of all clients regardless of their situation.
Humberwood has a nurse practitioner trained in the area of addictions, who meets with all residents upon admission to assess their physical health status and address any medical concerns. Humberwood has a clinical psychologist who can conduct psychological assessments when indicated. Humberwood will also consult with other specialists on an "as needed" basis and arrange referral when necessary.
Humberwood Team
Treatment Attendants
Addiction Counsellors
Team Lead Social Worker III
Clinical Psychologist
Nurse Practitioner
Community-based Mental Health and Addiction Services
Community Self-help Groups
Administrative Support
Housekeeping
Laboratory Services
Testimonials
"Couldn't ask for more. The people here go well beyond the call of duty. God has granted us all angels".
"I have come to get a grip on my life and I am confident that with continued help I will have my life straightened out. I highly recommend Humberwood Centre".
"Humberwood has saved my life. I am sure that if I didn't get here when I did I wouldn't be alive today. All the staff were excellent. Each one has a special gift. You are special people.
"I didn't know what to expect first when I came because I had so much negativity in my life, but the people there made me feel like I was someone."
"Every session was vital to my treatment and recovery plans. I have taken a whole lot from each session, every suggestion, every tool will definitely help me on my path of recovery. I have gotten more out of this program that I expected I would."
"Fantastic counsellors; well-educated and very good at what they do."
"Both the attendants and counsellors made me feel safe and without that I probably wouldn't have been able to do the work I needed to do. I felt safe, comfortable, secure, and had no fears of being judged or labeled. I felt that the staff listened carefully to what I had to say, challenged me when I needed to be challenged and I felt that I was able to trust the counselors with my personal issues. I felt that the staff genuinely cared."
"I can't say enough about this place. It has helped save my life!!! What I have learned from everyone involved is priceless; my life is priceless!! I now view this world, my addiction, and myself in a totally different way. Being here has set me on a track but now it is up to myself to explore and continue this beautiful new path set out for me. This place is a Heaven on this crazy Earth. Thank you all for your guidance, your caring, your love!! You have made a new being out of me, and words on this paper can't express my gratitude for all you beautiful Angels. Thank you all from every ounce of my heart, my being, my soul!!!!!"
"Everything about this program and the people are great - no complaints; a part of my life I will never forget".
"So happy I came here. I would recommend Humberwood to anyone I know that needs help. I did cleanse my Mind, Body and Soul. What a wonderful feeling. I am leaving here feeling like a new person."
Contact
For further information, or to make a referral to the Humberwood Centre, please contact your local Addiction Services office, or...
Regional Addiction Services Offices
Eastern Health
Bay Roberts
(709) 786-5219
Burin
(709) 891-5030
Clarenville
(709) 466-5700
Harbour Grace
(709) 945-6512
St. John's
(709) 777-5074
Whitbourne
(709) 759-3362
Central Health
Baie Verte
(709) 532-5271
Brookfield
(709) 536-1137
Gander
(709) 256-5438
Grand Falls-Windsor
(709) 489-8841
Lewisporte
(709) 535-0906
Springdale
(709) 673-4974
St. Albans
(709) 538-3738
Twillingate
(709) 884-1370
Western Health
Burgeo
(709) 886-2185
Corner Brook
(709) 634-4506
Deer Lake
(709) 635-7830
Norris Point/Cow Head
(709) 458-2381, Ext. 266
Port Saunders
(709) 861-9125
Stephenville
(709) 643-8740
Labrador/Grenfell Health
Happy Valley-Goose Bay
(709) 897-2343
Labrador City
(709) 285-8251
Port Hope Simpson
(709) 960-0271, Ext. 230
St. Anthony
(709) 454-0262